Living well
This week let's talk about one of the burning questions:-"Does moving into an aged residential care facility help alleviate loneliness?"
10% of New Zealanders aged 65-74, and 13% of those aged over 75 feel lonely all, most or some of the time. (The Social Report 2016)
Loneliness and social isolation  can lead to whole load of other problems mentally and physically.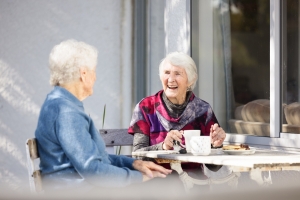 A 2019 study by a young New Zealand nursing student, Mikkol Macabali aged 21, explored the question:-
What gives older people meaning and happiness in aged care?
In his results friendship emerged as the most important factor in living well. " The key to flourishing in residential aged care was through meaningful relationships with other residents and staff" Mikkol said. "Socialisation was very important for both mental and emotional wellbeing of all residents. It goes to show it's never too late to make a new friend or best friend"
At Alexander house as our Mission statement goes " Make their day everyday" we make every effort to ensure our residents never feel lonely or socially isolated by providing the following and more:-
24 hour care by fully trained Health Care Assistants with oversight from a Registered Nurse
An Activity Coordinator who plans group and individual activities for residents
Regular entertainment
Regular outings
outdoor sitting areas
We are a small facility with a homely environment that makes it easy for residents to mix and mingle. When one feels safe , their emotional balance is well maintained and they become happier and find meaning in life. Let's talk about the safety that aged care facilities bring in my next blog.